In essence, monetising your publication is putting in place and executing a plan that makes your business profitable. If you are thinking just about how you can monetise your blog, website or publication alone, then it can be assumed that you are here to find the 'latest tactics'. Having this mindset is what will make your business fall down.
There are three key steps you need to take when trying to make your publication business profitable online.
Step 1: Decide your online business model 
It's about setting up a successful operational business where you can find the most effective method for driving revenue back. Backed by David Risley data, here is outlined the most effective business models that you can adopt online (in order of effectiveness):
Top 10 Monetisation Models
Membership sites – This can range from multi-modal courses to single purchase training videos or freemium based locked up content, or even or forum sites (where expert advice is the focus). The advantages of this recurring payment and processing model is its ability to scale.
Information products (of your own) – This method is similar to a membership site, however, applied to external sites i.e. Udemy
Services/Consulting/Coaching – Are you a digital publishing company that is offering content marketing solutions for big brands or the like? The structure of this model is to use the content as your site as a way to position yourself as an expert, whilst charging a premium for further advice.
Physical Product Sales/SAAS – It's taking the membership site model to the next level and rather than focusing on services, an eventual transformation of the publication to an e-commerce on SAAS based business where you solve your customer's problem with a useful software or physical product.
Affiliate Programs – Affiliate programs simply involve earning commissions from products built by others that you sell on your site, which at this stage would have a large trafficked site with a specific audience.
Speaking Gigs/Events – Once you become an expert in your industry, you can then leverage this to pitch and be invited to industry events. The purpose of your publication and site would be for building your positioning around your audience, whilst targeting your customers at events. You can create your own events.
Banner Advertising – Depending on the model and solution you use, you can monetise from the users you're driving to your publication to conduct other actions.
Paid Posts – Generally not seen as an effective method, due to its efficacy, however, this works in some niches i.e. travel or mommy blogging, where brands rely on influencers to promote their products or services to a targeted community.
Building It & Selling It – You can simply build and sell a blog which can be profitable, however, it is something which will take a lot of time and effort. David also suggests to start off which an audience which you can buy from a previous owner and to not buy empty sites with 'potential' as this more than often leads to failure.
Job Boards, Ads e.t.c. – This works to a limited extent and only for mature established sites, however, if you believe this provides them value, offer them the option to post jobs on your publication or use a 3rd party subscription, such as Indeed, where you can provide them a list of the most relevant jobs.
Step 2: Run your online publication business  (Using the ARM framework as an example)
The ARM (Attract, Retain & Monetisation) framework is as it suggests, a process, using the applicable channels outlined towards growing your publishing business.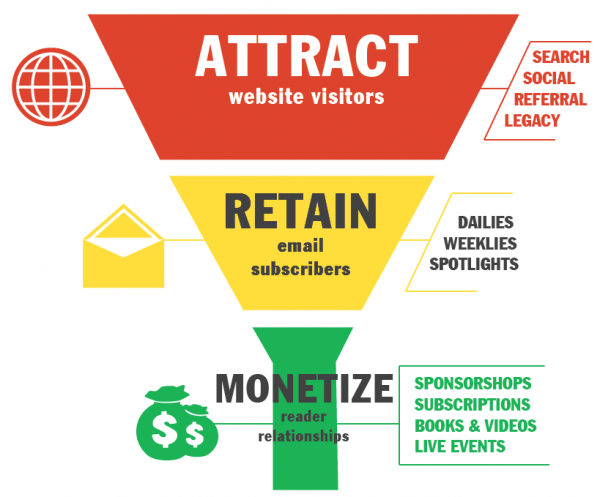 Source: Mequoda
Step 1 is obviously applied to the last part of the funnel and the second might seem pretty straightforward, however, you might be asking yourself, what is the best method of attracting visitors to my digital publication?
Devise a process based on your strategic outcomes, customer lifecycle and how this will lead you to develop products which you can monetize. Digital Marketer has a clear example, using their customer value optimization process.
Determine the product fit for each stage of the cycle – you might, as a result, need a few processes to capture a single person across multiple channels, throughout a long purchase cycle.
Step 3: Implement, measure (your business moving KPI's) and improve on results
 Using principals from the PIE and Lean Analytics framework, prioritise choose and seek specific methods of improving your bottom line and KPI's that will ultimately make your digital publication business more successful.
Is there another process you are using to make your publication more successful online? Are you suffering from existing challenges that SODP can help with? Comment below!